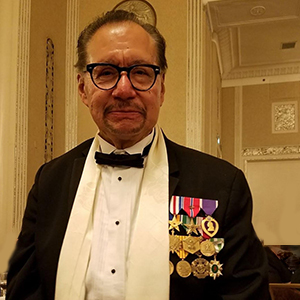 What does Veterans Day mean to you? Adelante Pronto!has the honor to talk to George Banda, a Vietnam veteran who will share with us some of his memories, and what Veterans Day means to him and his family.
 George Banda served in the U. S. Army and in December of 1969, he joined the elite "Screaming Eagles" 101st Airborne Division, as a combat medic. As a member of the 101st Airborne Division, he earned many distinguished commendations in Vietnam.
George and his wife Lorraine, call Milwaukee home.  He continues to serve veterans as Adjutant of Milwaukee County Purple Heart, Chapter #818, and is a founding member, and Past State Commander of the American GI-Forum, a National Latino veteran's organization.  He is a life member of the American Legion, Veterans of Foreign Wars, and the Vietnam Veterans of America. A proud member of the 101st Airborne Division Association and serves as the Secretary of the Old Abe Chapter, Inc. of Wisconsin. He is the past president of the Allied Veterans Council of Milwaukee County and is the current president of the Milwaukee County War Memorial Center Veterans Board, and a member of the War Memorial Board of Trustees. George Banda sits on many other committee's throughout the state of Wisconsin as an advocate for all Veterans.